Ducati, an Italian mobike brand, has introduced 'Monster' model M795 at the 11th Auto Expo 2012 here. This motorcycle has been priced at Rs 6.99 lakh. The Monster will be available at the three dealerships of the firm, said Mr Ashish Chordia, CEO of Ducati India. This entry level model has been created mainly for Asia. The Ducati Monster 795 will be available at Ducati showrooms across India from March 2012. This said, bookings are currently on at Ducati's Indian showrooms.
The Ducati Monster 795 features a few cost saving bits like the signature Ducati single side swingarm being replaced by the more conventional twin side layout. This aside, the Ducati Monster 795 is assembled at the Italian motorcycle maker's Thailand plant through completely knocked down kits. also, a few of the non-cycle parts are sourced from Thailand, thus reducing the overall cost of this motorcycle.
It has an 803cc L-twin, air cooled engine which produces 87PS of power and 78Nm of torque at 6250rpm. It has a six speed gear box. To bring the cost down, the 795 has a double-sided swing arm instead of the single on the 796. It will also have 3-spoke alloy wheels and not the five-spoke ones on the 796.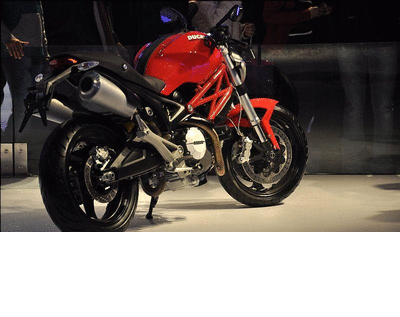 Crop image