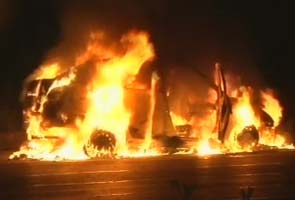 Until now, the fire in car was synonymous to Tata Nano. In the past we have seen many Tata Nano catching fire, reader at Wheelomania have been updated about the same as soon as it happens, the last one being in Chennai, with videos included(Click here for details).
It was informed that a Maruti Suzuki swift caught fire which was bought just three months back

in the wee hours on the Eastern Express highway at suburban Kanjurmarg here after a long drive, a fire brigade official said. Thankfully, neither of the occupants of the car was injured in this incident.
"The car, Maruti Swift Dzire, bought by a person three months ago was returning from Ahmadnagar to Mumbai (distance between the two cities is about 202 KM) when the driver was informed about a spark below the car at around 1.20 AM," V M Mayenkar, in-charge of Gavanpada fire brigade unit, said.
The driver, the owner of the car and one more occupant immediately got down from the car and managed to pull out their belongings in nick of time before the vehicle went up in flames, Mayenkar said. The owner of the car alerted the fire brigade officials after which their men rushed to the spot and doused the fire in 30 minutes, he said.
Recently, it has also been announced that National Automotive Board(NABARD), an agency which will look after the defective vehicles, will have the ability to recall vehicles is going to be setup, click here for further details on the same.